EGG Tech has exclusive distribution rights in the animal reproduction sector. We supply clients in the UK, Europe the Middle East, Asia and beyond.
We represent a number of companies including:
Calier, Vetoquinol, Agtech, Cryologic, Minitube, IMV Technologies and IVF Bioscience.
ET, IVF and AI product ranges now include:
FSH – Folltropin (Vetoquinol) Pluset (Calier).
ABT 360 – ABT and ADAPT Media – Flush, Holding, Freeze, Thawing and associated solutions.
IVF Bioscience complete ready to use IVF media suite.
IVF Equipment – Laminar Flow units, CO2 Incubators, Air Quality Regulation and Evaluation, together with associated IVF equipment and consumables.
Embryo Sexing -YCD (Bioniche) and Ampli-Y (Finnzymes),
Semen Technology- Ejaculation, Collection, Extenders, Freezing, Thawing and Evaluation.
Cryopreservation – LN2 Tanks, Freeze Control Systems, Vitrification, Labelling, Thermometers, Goblets, Canes, Straws and accessories.
Consumables – IMV Sheaths, Catheters, Filters, Tubing, Plasticware, Embryo Handling and Manipulation.
Embryo Transfer Products
FSH Superovulation – EGG Tech compliments its extensive range and gives customers the choice of FSH/LH superovulation drugs with the availability of Folltropin or Pluset. Vets who are aware of both products, and have used them routinely, continue to report extremely satisfactory results from their differing and specific administration regimes, resulting in consistently high yields of transferable good quality embryos for both cattle, sheep, goats and camlids.
ABT 360 media and Reagents –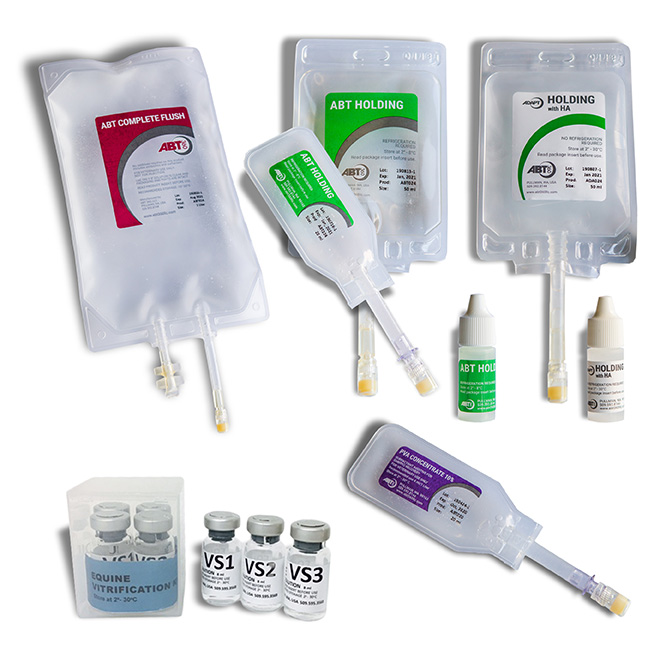 Universally acknowledged as the paramount ranges of traditionally formulated, and synthetic Embryo Transfer media.
IVF Bioscience media suite –  This complete range of IVF media is ready to use. Refrigerated storage and no additions makes these products extremely convenient to use. The product also offers exceptional results and is the product of choice for IVF labs.
Freeze Control Equipment – The availability of a comprehensive range of control-rate modular liquid nitrogen freezers enables the user to regulate the freeze rate of embryos to match practitioners' individual preferences. No special installation is required; the units are simple to set-up and use; and convenient to pack away for transporting to another location.
Micromanipulation Equipment – An advanced selection of precision instruments to examin, sample and manipulate embryos.
YCD Sexing Agents – This is the only commercially available diagnostic reagents to positively identify male and female embryo biopsies. The test also eliminates blank test samples. This gives the end user a known test result prior to implanting. This therefore eliminates the possibility of an unwanted calf.
Finnzymes Ampli-YT – This is a non-electrophoretic method for sexing bovine embryos. Following PCR, Y-chromosomal bovine DNA is detected directly from the tubes by observing their fluorescence under UV light. By excluding electrophoresis, the kit provides a major simplification and time savings in bovine embryo sexing. Additionally the procedure significantly decreases the risk of PCR cross-contamination, commonly associated with electrophoresis based methods.
Specialised ET/AI collection and transfer Equipment – User-friendly components to make a vet's life easier on the farm. The complete range includes Catheters, Transfer Guns, Delivery Sheaths, Filters, Straws, Flush tubing sets, Micro Pipettes, Transport equipment and all other consumable items.
Disposable Laboratory Equipment – A complete range of cost effective disposables to suit all your needs.
If you would like further information, please email us.